Pierre Asmar, MD, FACOG
Founder of the Washington Fertility Center, Dr. Pierre Asmar is a renowned fertility doctor who has been assisting infertility couples in the Washington Metro Area since 1983.
Dr. Asmar completed his residency in Obstetrics and Gynecology at Barnes Hospital in St. Louis, MO. He also completed a Board approved Fellowship in Reproductive Endocrinology and Infertility at Washington University in St. Louis where he served as an Instructor. He also held the position of Clinical Instructor at the Department of Obstetrics and Gynecology at the University of Minnesota.
"Dr. Asmar is the best doctor ever."
Dr. Asmar is Board Certified in Obstetrics and Gynecology and a Diplomate of the American Board of Obstetrics and Gynecology. He is a fellow of the American College of Obstetricians and Gynecologists. He is also a member of the American Society of Reproductive Medicine, the American Medical Association, the Virginia Medical Society, the Northern Virginia Medical Society, and the Society for Assisted Reproductive Technologies.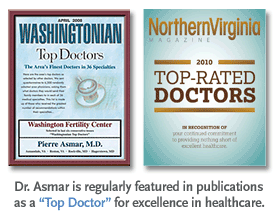 Dr. Asmar's expertise in fertility care includes IVF, Donor Egg, Laparoscopy, and Hysteroscopy surgeries, as well as Myomectomy for conservative surgical removal of uterine fibroids. He is also an authority in Microsurgery for same-day Tubal Ligation Reversal. Dr. Asmar has repeatedly been nominated by his peers as "Top Doctor" in the Washingtonian and Northern Virginia Magazines.
Dr. Asmar and his wife are parents to three daughters. In his spare time, he enjoys traveling.
"Experience, excellence, and success" is our signature trademark.